Water Restoration Technician
If you have a passion for coming to the rescue in customers' most chaotic and stressful situations, this may be the position for you. We are looking for a motivated, ambitious Water Restoration Technician to add significant value to our restoration division. Incentives include a tool purchase program as well as paid training and certifications.
---
Job Responsibilities: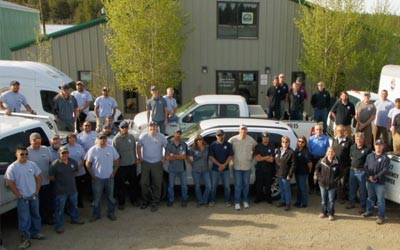 Ability to work efficiently and productively without direct supervision.
Assessing damaged contents to assess what can be saved.
Cleaning and storing damaged contents until they can be returned to the home.
Removing and replacing damaged materials such as wallboards, lumber, and carpets.
Handling any issues caused by water damage, including drying out the area and removing mold.
Sanitizing structural features that can be saved.
Proper use of containments and equipment- setting up, monitoring, taking down, and properly cleaning equipment for each job as necessary.
Answering complaints, explaining job specifications, and performing other customer service duties.
Adhering to personal safety standards by wearing the appropriate protective gear and using the right equipment.
Follow all health and safety standards per OSHA
---
Job Requirements:
High school diploma or GED.
Valid driver's license.
On Call availability for emergencies after regular business hours.
Must have your own transportation to and from work.
Good communication skills.
Able to lift at least 50 lbs.
IICRC certification.
Excellent working knowledge of general tools and mitigation equipment.
Good math skills.
---
Fill out the form below to submit your resume and one of our hiring managers will contact you if we have an available position that matches your resume.