Construction & Restoration Services Fountain, CO
Professional construction and restoration services in Fountain, CO
As a fully licensed general contractor and offering various restoration and construction services in Fountain, Colorado, KW Restoration is one company you can truly depend on. We offer a comprehensive range of services that includes sewage overflow restoration, mold removal and remediation, as well as fire and smoke damage restoration. We also offer general construction and reconstruction services, water extraction services, as well as water damage restoration. With over 25 years of experience under our belt, we are a Coloradan company that is proud to be homegrown.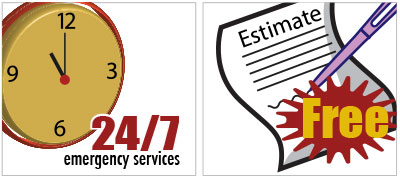 24/7 emergency services, free in-home estimates, bonded and insured
Since we understand that accidents can occur any time, we also offer 24-hour emergency response services for all your restoration, reconstruction, and construction needs. KW Restoration works with some of the leading insurance companies directly, which helps you get communication issues and paperwork out of the way, allowing you to focus on other things you need to do.
If you want to know more about what we can do for you, please do not hesitate to get in touch with us via 719-301-3737 or through our contact page. We can help you learn more about what we can offer in terms of home or office restoration, and we can also give you free service estimates. Since we are bonded and insured, you can also breathe easy knowing that we have sufficient coverage while we get things done.
Learn about Fountain, CO
Located in El Paso County in Colorado, the city of Fountain is home to over 27,500 people. Located 10 miles south of Colorado Springs, this city first began as a railroad shipping center in 1859, with the railroad servicing the ranches and farms in the area. The city was incorporated in 1900 and was originally named after the 74.5-mile-long creek found in El Paso called the Fountain Creek.
One rather notable event that occurred in the city way back in 1888 was a giant train wreck aptly called "The Blast." An explosion was caused by eighteen tons of explosives that were on the freight train that collided with a passenger train. It is said that the explosion was caused by two vagrants and destroyed a grocery store and a church, among many other things.
Today, the city's residents still commemorate The Blast every year in July with a street dancing festival.