Disaster Damage Restoration Service in Gypsum, CO by KW Restoration

Gypsum, CO is a town in Eagle County with a population of 6,477 as of the 2010 census. It got its name from the gypsum deposits nearby. It is where American Gypsum drywall plant and mine are located. Summers in Gypsum are warm and dry, while the winters are freezing and snowy. Throughout the year, the temperature ranges between 9°F to 83°F but it can get as cold as -6°F and as hot as 90°F. Gypsum has a high chance of volcanic activity and has experienced thunderstorm winds, floods, hail, and wildfire. Gypsum residents rely on KW Restoration for all their disaster damage restoration needs.
With our more than 25 years of disaster restoration and construction experience, you can trust KW Construction and Restoration to always deliver high-quality service. We respond quickly to minimize potential damage and are available 24/7. Our technicians are properly trained and have the right skills and equipment to do professional work. They are all bonded and insured so you'll have peace of mind when we work at your premises.
KW Restoration Mold Remediation Services in Gypsum, CO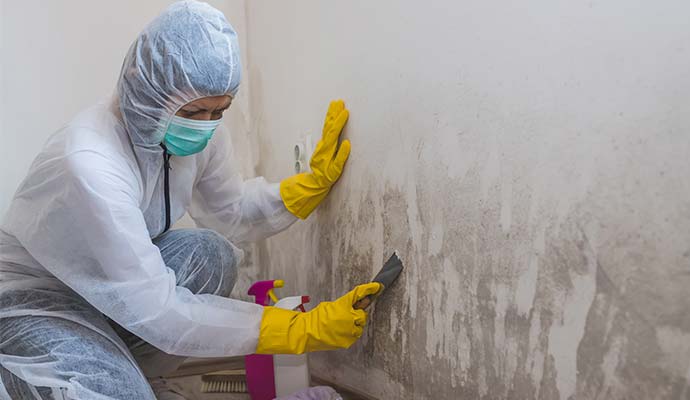 At KW Restoration, we provide the same service for both small and big projects. We take pride in the consistency of our service. Below are just some of the services that we offer in Gypsum, CO.
Remodeling Services - House prices in Gypsum are higher compared to the rest of Colorado and even compared to the rest of the United States. Remodeling can help keep the value of your home or even increase it. We can help from the initial planning to the actual implementation of home remodeling.
Mold Remediation - Mold spores are everywhere, lurking, waiting for the right time to bloom. When there's too much moisture, mold will form and spread. When mold spreads, they can cause threats to your property's structural integrity. Also, increased mold also means increased mold spores. Mold spores can cause allergies and respiratory problems for some people. Let KW Restoration check for mold and help you with mold remediation. We can also help you find sources of moisture and fix them to prevent mold growth.
Fire Damage Restoration - One of the worse things that anyone can endure is having your property burned. In most cases, a part of the property will be totally charred and some parts will be damaged by smoke and soot and the water used in fire suppression. KW Restoration can help both with fire damage restoration and water damage restoration. We have powerful pumps for water removal and industrial dehumidifiers for removing excess moisture. We also have the right procedures and materials to remove smoke odor and soot.
KW Restoration Provides Electrical Services in Gypsum, CO
You can also rely on KW Restoration if you need electrical services in Gypsum, CO. For more information about our services or to request an estimate, please visit our Contact Us page to send us a message online. You can also call 719-301-3737 if you prefer talking to a representative.