Tarp-over Installation near Colorado Springs & Leadville
Fires cause unexpected and frequently disastrous events. Further exposure to the elements can cause greater damage and turn your home or business unusable, as well as make it vulnerable to theft or vandalism. During the restoration process, you may need an emergency tarp-over installation to protect your roof and property from vandalism or other weather-related invasions.
Most fire-damaged properties are not immediately usable or habitable. So rely on KW Construction and Restoration for effective tarp-over service that gives damaged property protection from elements and intruders in Como, Colorado Springs, Penrose, Monte Vista, and more surrounding areas. Call us now at 719-301-3737 to get our tarp over installation service. You can contact us online to know more about our fire damage restoration services.
The necessity of Tarp Over Installation after Fire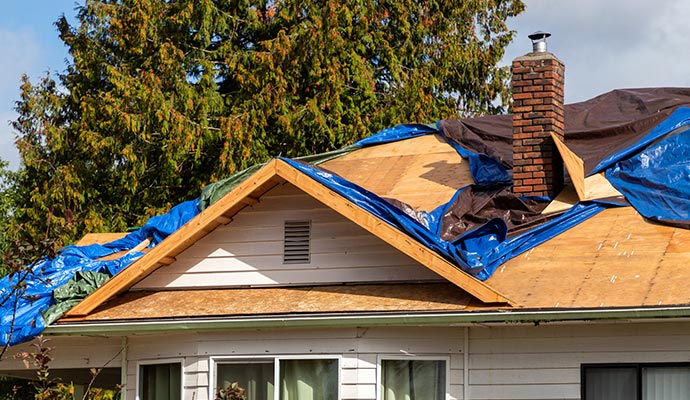 You need a tarp over installation service after a fire for many reasons. The followings are some of the reasons.
Ward off or limit vandalism: Sealing your property, especially a company, can safeguard it from criminal activity, unexpected visits, theft, and other issues while it is being restored.
Protect your claim: A board-up service is the next obvious step after submitting your insurance claim to better secure your property. Your insurance provider will value the additional safety and will be less likely to deny coverage for additional damage if it occurs.
Limit liability: You could be held accountable if somebody is hurt on your damaged, exposed property. A tarp over installation service can save you.
Limit further damage: After a fire or other accident, keeping animals, the elements, and intruders out or limiting their access might help to prevent further damage to your home or business.
Rely On Us for Tarp-Over Installation Service
For tarp-over installation after fires or other disaster damage to your residential or commercial property, turn to the experienced professionals at KW Construction and Restoration for superior tarp-over solutions. Call us at 719-301-3737 or contact us online to get our services. We also provide water damage restoration and mold remediation services.