Mold Testing in Colorado Springs and Leadville, CO
Mold is common but isn't generally hazardous until it comes in contact with water intrusion, floods, surface moisture or any presence of water for a prolonged period. Mold thrives in wet conditions to feed on organic material, grow and spread. This can occur within 24-48 hours, eventually resulting in considerable property damage, as well as health hazards.
At KW Construction & Restoration, our professionals will work closely with you to complete a thorough mold testing and environmental assessment report that outlines occurrences and severity of mold contamination. Mold remediation begins thereafter, upon your approval.
Besides Colorado Springs and Leadville, we assist customers with mold testing, remediation, cleanup and removal in Monument, Palmer Lake, Woodland Park, Divide, and throughout our CO service area. Our Colorado-licensed services include insurance claim assistance, and we'll provide free estimates. Contact us online or call 719-301-3737 for more information.
KW Knows Mold Signs in Colorado Springs & Leadville, CO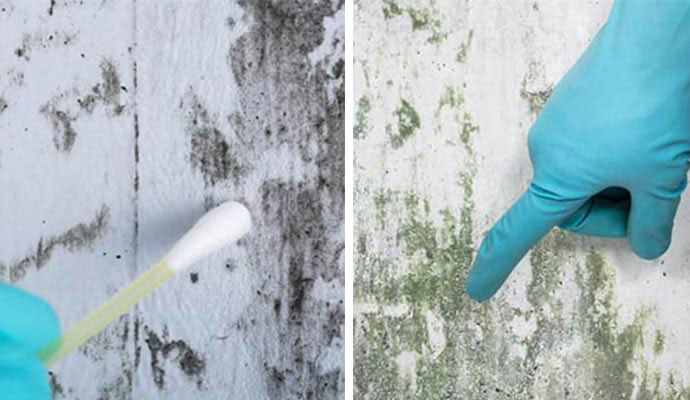 For these indicators that mold is present, growing or has contaminated part of your home, call KW Construction & Restoration for assistance with environmental mold testing:
Visible mold growth: Mold you can see likely means there's much more you can't see.
Water Leaks: Current or prior leaks, plumbing breaks or other issues, basement or roof leaks all have the moisture potential to produce mold quickly.
Mold odors: Musty, stale odors in your home or business shouldn't be ignored. You can be come less sensitive to them, but it doesn't mean mold has fixed itself.
Health issues: Black mold contains mycotoxins associated with air quality health hazards. Rashes, respiratory issues, congestion, nausea, headaches, fatigue, or other symptoms can persist.
Flooding: A previous flood that wasn't adequately mitigated can develop mold issues. Contact the water mitigation and restoration professionals at KW Construction & Restoration after a flood. If suspected or found on your property, mold can also be remediated.
For Mold Testing Help, Trust KW Construction & Restoration in Colorado Springs & Leadville, CO
KW Construction & Restoration realizes that every hour and day matter when it comes to determining if mold contamination is present in your home or business. We'll provide assistance for mold testing as rapidly as possible, and then begin superior, efficient mold remediation and other water damage services. Let us return your home and air quality to its pre-mold state to give you peace of mind. To learn more, call 719-301-3737 or contact us online to arrange a consultation. Additional services include black mold cleanup, mold cleanup services, and more.