KW Construction and Restoration Smoke Odor Removal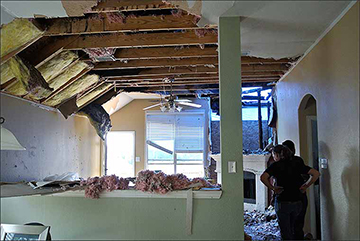 Fire damage may be quite considerable for building infrastructure and contents inside the property after the flames die down. Moreover, smoke odors lingering after fires are difficult to remove and may cause long lasting damage as well. Inexperienced property owners facing fire and smoke damage should not attempt to cleanup and remove soot, debris and smoke odors themselves, without expert help from a fire and water damage restoration company. Lay people may, unintentionally, cause further damage by spreading char and soot around the property. In fact, improper and unstructured handling of smoke odor and fire damage cleanup may hinder the progress of competent repair efforts. Therefore, professionals should be handling both content restoration and fire damage structural repairs. Contact us today!
Let KW Construction and Restoration handle your Fire Damage Cleanup & Smoke Odor Removal
The sooner fire and water damage restoration personnel are called in for cleanup and repair work, the sooner they can begin to restore the property. Smoke odor removal following a fire need to be taken care of without delays, as odors have a tendency to penetrate carpets, walls, furniture, clothing, etc. Water and fire damaged items within the home are packed and taken to a content restoration facility, where they are gently cleaned and restored. These items include rugs, draperies, sheets, clothing, books, ornamental accessories, artwork, electronics, documents, furniture, toys, and many others.