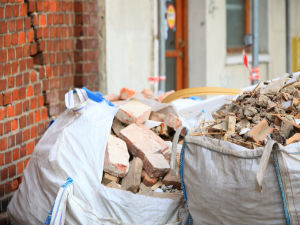 The aftermath of certain disasters are difficult to deal with, especially those disasters that leave behind a massive trail of problems. Floods, fires, and even strong winds and storms can go through the toughest terrain and still be able to create challenging cleanups for just about anyone. From uprooted trees to torn walls, removing debris is nearly impossible, and not to mention dangerous, if you are not equipped with the proper tools and gear. Furthermore, you have to think about where to place the unwanted items because you can't dump them wherever you please.
If your properties have been heavily damaged by natural or in-home disasters, and you need to have debris removed, then contact KW Construction and Restoration. We know just how to remove various types of debris quickly, safely, and efficiently.
Professional Debris Removal
It is tempting pack your cars or trucks full with all the debris that was thrown onto your yard, but this method is highly discouraged. Although taking these items and sending them off to the right dumping grounds seem easy enough, there are quite a few elements which are often overlooked when you are proceeding with the do-it-yourself cleaning method. Depending on what caused the mess, you are placing yourself in a whole lot of trouble. Fires can create splinters and expose materials, like nails, that were once secured to your walls or floors. If you accidentally step on them, you could get injured and the open wound can get infected due to the environment you are in. Electrical wiring can be torn from their links, and if you are walking into a flooded or wet area, you are highly likely to get electrocuted.