Professional Window Board Up Services in Central Colorado
Your windows are one of the easiest entry points in your house or commercial building. It can get broken by fire damage or any natural disaster like storms and floods. In such cases, it is important to board up your window to prevent vandalism.
It will also protect your structure from animals, weather, and more potential damage. At KW Construction & Restoration, you will get excellent board-up services in Central Colorado. Our window board-up service is dependable and professional.
We are Colorado owned and have been in business for more than 25 years. Our crew has the experience and knowledge that it takes to board up your window. Pick your phone, and give us a call at 719-301-3737 to know details about our services.
Reasons to Use Window Board Up Services
Different situations can cause your windows to get broken, leaving your house or workplace exposed. Some of the reasons to use window boar up services are:
Storm damage: Natural disasters like windstorms, hurricanes, and tornadoes can create big problems for building owners. The difference in air pressure between the outside and inside is often enough to shatter windows.

Fire: Heat caused by a structural fire can cause lots of damage to your structure, including shattering broken windows.

Preventive measures: It is wise to plan early with window board-up services when severe storms are on the rise. This preventive measure can save your window from shattering in the first place. After the storm passes, you can remove the boards to restore your building to its former beauty.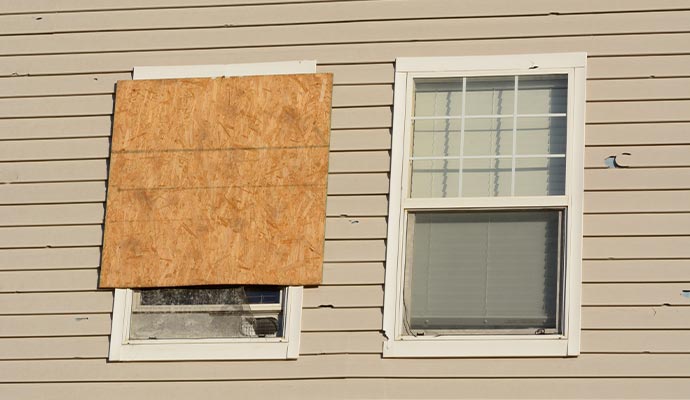 Looking for Window Board Up Services in Central Colorado? Trust Us!
For window board-up services after a fire, flood, or storm disaster at the house or workspace, KW Construction & Restoration has got your back. Our trained and highly skilled technicians are ready to board up your windows in Gypsum, Bond, and Burns areas.
We also specialize in storm damage reconstruction, fire damage restoration, and water damage restoration services. Give us a call at 719-301-3737 or fill out the form to make an appointment.