Water & Fire Damage Restoration in Dillon, CO

Experiencing a natural disaster or major accident is traumatizing & overwhelming for a property owner. Water & fire damage can completely destroy your home or office. To get your property back in peak condition ASAP, KW Construction & Restoration offers comprehensive restoration solutions to recover from water & fire damage to your property in Dillon, Colorado.
Our top-notch restoration services are available to residential and commercial customers in Dillon and throughout Summit County. When you need our help to address water or fire damage restoration, reach out to KW by calling 719-301-3737. You can also click here to reach us online.
Elite Restoration Services by KW Construction & Restoration in Dillon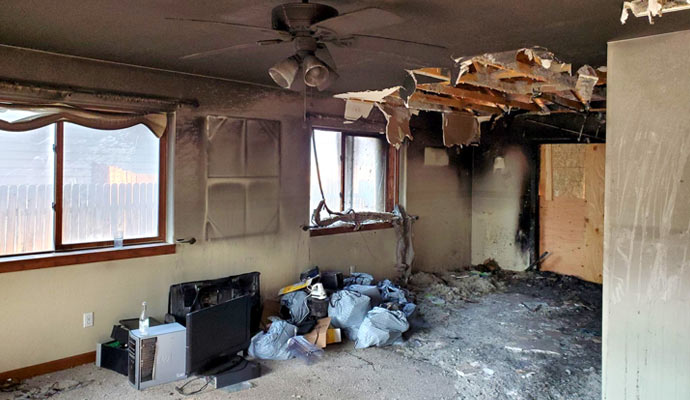 Our company is bonded & insured, serving you with the best restoration services in Dillon and other cities in Summit County. Our services include:
Water damage restoration: The effects of water damage are often significant and widespread. Our water restoration services include everything from emergency water removal to drying or mold removal.
Fire damage restoration: Dealing with the aftermath of a fire can be challenging as it leaves behind smoke odor and soot that can cause more damage to both your property and health. With our expertise and specialized equipment, we can safely and effectively eliminate smoke and soot while restoring your property to its previous condition.
Mold remediation: Mold growth can cause structural damage to your property while creating health hazards for humans. We ensure that your property remains dry and mold-free with our mold remediation. We aim to protect the structural integrity of your property and promote a healthy environment inside your house.
Let KW Construction & Restoration Handle All Your Restoration Needs in Dillon
We are a full-service restoration company, serving the people of Dillon, Colorado, and other residents in Summit County since 1998. Whether it's any restoration project, construction services, remodeling services, or others, our company is here to serve you. We are IICRC-certified, bonded, and insured & work closely with your insurance company so that you don't have to stress about anything. Make a call today at 719-301-3737 or click hereto get our emergency services 24/7.
Emergency Restoration and Construction Services in Dillon, CO
Imagine coming home to a broken pipe after a great day of skiing. Now your home is full of water! What do you do? You call KW Construction and Restoration! We will come in and dry out your home in a jiffy. If you don't get a professional team in Dillon to dry out your home and all you do is extract the water, you risk the chance of mold growth! KW restoration has been serving Dillon and other residents of cities throughout Summit County for decades! We will work with you on your water damage, your flood damage, and even Mold damage cleanup. Whether you live in a condo, a managed HOA, a hotel, or a house, trust the experts at KW Restoration. We are a 100% Colorado local company. We work with all Homeowner Associations and Insurance companies too!