For some people, kitchens are the most important part of their home. It's not just a place to cook, this is where family members gather to prepare meals, spend valuable time together and entertain.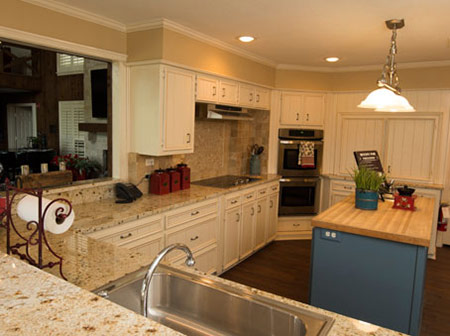 Many homeowners want their kitchen to not only be functional, but also match a certain design element, whether it be modern, contemporary, traditional, custom or even technologically advanced. At KW Restoration, our design experts will work with you throughout the entire remodeling process to answer any questions, provide recommendations and ensure that your remodeled kitchen is your dream kitchen.
When it comes to kitchen remodeling, it's important to think about the design and layout, as well as functionality. Because so much time is spent in the kitchen, it must be spacious enough for your family and fully functional to your daily routine. Often times during kitchen remodeling, we're asked to add on space or to create additional kitchen storage areas. We also get requests to integrate the kitchen with other parts of the house, such as the living room. No matter what you want to remodel or add to your kitchen, we know just how to help.
Regardless if you want simple updates or full service renovations, kitchen remodeling is one of the best investments you can make for your home. From granite or quartz counter tops to cabinet upgrades, our design team will work with you through every step of the remodeling process to bring your vision to life.
At KW Restoration, we will work with you through every step of kitchen remodeling and tailor your kitchen to meet your needs with customized features that are sure to enhance your cooking, and the way you live!
For kitchen remodeling in Leadville, Colorado Springs or surrounding areas, contact KW Restoration today at 719-301-3737 to schedule an estimate!