Water Damage Restoration Process in Leadville & Cotopaxi
KW Construction & Restoration takes pride in being one of the leading water damage restoration companies in Colorado Springs, Leadville, Cotopaxi, Manitou Springs, and throughout our Central Rockies service area. Our IICRC-certified crews utilize the most effective, time-tested procedures to restore your home or office when it is damaged by water. Additionally, we also offer mold remediation to stop mold growth. With our expertise, you will be able to enjoy your indoors again in a very short time. Give us a call at 719-301-3737 to restore your water-damaged business or home. You can also click here to schedule an appointment today.
Our Restoration Process by KW Construction & Restoration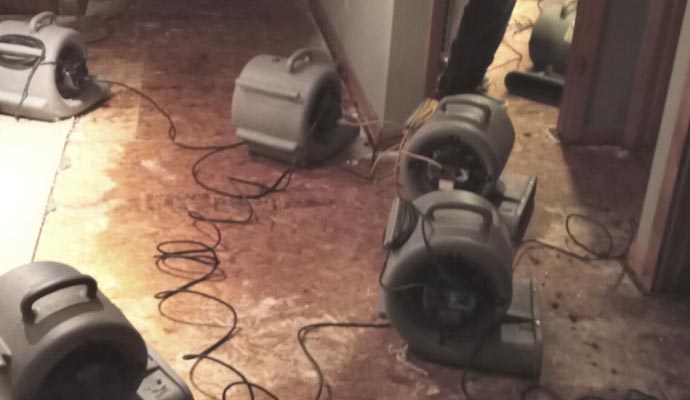 Damage inspection: We identify the source of the water damage, determine the best water cleanup method, and provide you with a service estimate.
Water damage categorization: We measure the degree of water damage and the type of water involved. Unsanitary water requires more attention than damage from clean water.
Water damage mitigation: We prevent further damage by using industrial dryers & other specialized equipment to minimize the loss.
Water extraction: This process involves using industry-grade equipment to extract moisture & water from the damaged contents. This helps prevent the growth of mold by eliminating their primary food; moisture.
Structural & contents drying: We dry the structural environment of your home or building along with all the contents that are damaged, like furniture, to ensure clean & safe indoors for you and your family.
Water damage restoration: We repair and restore the damaged structure, eliminating & preventing mold growth. Moisture & humidity tests are carried out to ensure all issues have been resolved.
Count on KW Restoration for Water Damage Restoration in Colorado Springs
When you face severe water damage in your home or commercial business, give the professionals at KW Construction & Restoration a call at 719-301-3737. We are ready 24/7/365 to help you in Cascade, Florence, Rockvale, Penrose & other cities throughout the Central Rockies. To schedule an appointment, click here.