Sheetrock Tape and Bed Services in Colorado Springs and Leadville, CO
Sheetrock is a brand name that's owned by the United States Gypsum company, and it's now used as a generic term to refer to wallboards, drywall, plasterboard, and even 'rock.' Over the years, gypsum panels have replaced plaster for walls and ceilings.
Mudding and taping drywall or sheetrock are a necessary steps in repairing walls or ceilings. This process is also known as drywall finishing.
Taping drywall is a frustrating experience, with the potential of flaws showing up on the drywall months after you've finished the task. You'll notice corner-bead cracks, nail pops, and bad joints ruining your walls. To make your next taping job less stressful, we offer our expert services. Armed with the proper tools and materials, we make sure to use a step-by-step approach to finish the task.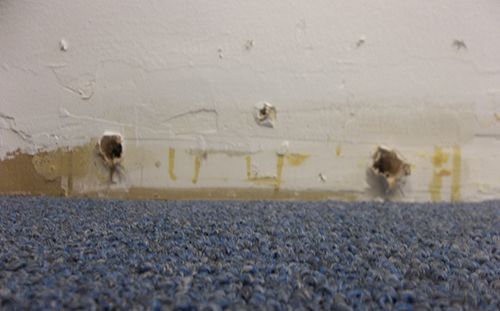 Hanging drywall takes a bit of muscle, but the next step — getting your drywall ready for painting or for new wallpaper — is where we shine best. This part requires the application of some premixed joint compound (mud) and drywall tape with the help of tools such as drywall knives and swivel-head pole sanders.
It gets really tricky when you're trying to figure out the best way to tape and carefully feather out the mud. Since the joint compound is soft, you'll have to know the right amount to remove. Removing too much heightens the risk of tearing or fraying the tape. It takes a practiced, light hand to get that perfectly smooth edge you're looking for. Our sanding service allows you to effortlessly enjoy walls and ceilings with a smooth finish.
Services You can Count On
Going DIY may sound like a good way to save money, but without the proper tools and experience that we of KW Restoration possess, you can also do more harm than good. For services you can count on, trust in us. We'll help you get a smooth drywall that's ready for a coat of paint or a layer of wallpaper. We also offer other construction & reconstruction services, such as remodeling services, fire damage restoration, and water damage restoration among others. So if you're in the area of Colorado Springs and Leadville, get in touch with us by dialing 719-301-3737 now! You can also reach us via our contact page.