KW Construction & Restoration Responds to Tornado Damage in Oklahoma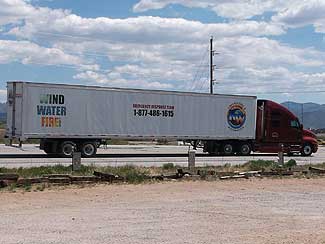 Tornadoes stormed in from nearby prairies toward Oklahoma City and its suburbs, causing severe havoc to neighborhoods and rural areas in its path. The storm caused significant heavy rains to flood a depth of 4 feet of water in some areas. To the south, another severe storm with winds upwards of 80 mph swept through Moore, where an EF5 tornado devastated the area on May 20th, 2013
Heavy rain and hail handicapped the rescue efforts in Oklahoma City and ongoing lightning lit-up the skies well after the main threat had moved east. Highways and streets were congested as motorists had to move their way around flooded portions of the city.
The U.S. averages upwards of 1,200 tornadoes a year and most are relatively small. Of the 60 EF5 tornadoes to hit since 1950, Oklahoma and Alabama have been hit the most — seven times each.
KW Construction & Restoration has mobilized their "National Catastrophe Team" and mitigation equipment to these areas to assist with all restoration efforts. "We've partnered with other Disaster Restoration companies such as TRC and Royal Plus in order to provide exceptional and speedy service to our clients in the disaster area. Our goal is to help put lives back together by getting people back in their homes and back to work as soon as possible" – Kyle Welch, President and CEO
This year, KW has teamed up with CATSTAFF and Sunbelt Rentals to continue to best serve our clients. CATSTAFF is a division of One Source that specializes in sending out experienced restoration laborers to restoration contractors anywhere in the US. They provide the most qualified personnel who are familiar in water and fire damage recovery. Having used their assistance in the past, we know we can count on CATSTAFF to assist us with the manpower necessary to restore our clients' property after widespread flooding, hurricane force winds, tornadoes or any other peril.
During area wide catastrophes, it is easy for KW's in house equipment to become "tapped out". That is why KW has also teamed up with Sunbelt Rentals. Sunbelt is the largest supplier of remediation and restoration equipment in the rental industry. They understand the unique requirements of restoration contractors that deal directly with homeowners, business owners, property and facility management companies when responding to damage from natural and other types of disasters. Sunbelt knows that having the right equipment readily available for us to service our clients is essential to successful property restoration.
Having experienced allied resources on our team is critical to successful restoration projects. Providing pre-planned emergency response, project management and experienced manpower paired up with state-of-the-art equipment allows KW to minimize the business interruption to our clients and get them back into their homes and businesses faster than our competition. KW's Emergency Response Plan is based on a before, during and after the relationship with our clients. We are not just about doing the work; we're dedicated to preventing future losses, responding effectively with quality performance, and analyzing each event in order to continuously improve our performance.