Cleaning up after a fire or a flood situation can be a handful, even for the most prepared of property owners. Aside from sanitizing the area and making sure everything is kept safe during the cleanup process, everything that is still salvageable needs to be properly accounted for and then removed from the premises.
In times like these, one of the most important assets that you can rely on is a restoration service that can do all of these things in a fast, efficient and reliable manner. KW Restoration has been recognized as one of the industry's top service providers in all types of restoration services, including fire damage restoration, water damage restoration, mold remediation and pack out services.
Packing out garbage, debris and other kinds of junk is a must in any restoration project. Simply piling up clutter in an effort to clean the area after a flood, or a fire, is just not enough. Trying to do things on your own can lead to a dangerous situation, as handling unsanitary materials can pose a serious health risk if not done properly. This is why your best recourse is to seek a professional cleaning and restoration service.
With more than 25 years of experience under our belt, KW Restoration has a team of highly trained technician who are equipped to handle any disaster or emergency situation. We are on call at any time and always ready to respond to any calls of distress in the area.
If you're looking for a reliable service provider who can pack up all your valuables and clean everything up after a disaster, then there's only one name to remember: KW Restoration. We have been a trusted brand to home owners and business proprietors alike in Colorado Springs, Colorado for many years now. If you want to learn more about this and our other services, please visit our Contact Us page and leave us a message there. Alternatively, you can also call our phone number at 719-301-3737.
Testimonials from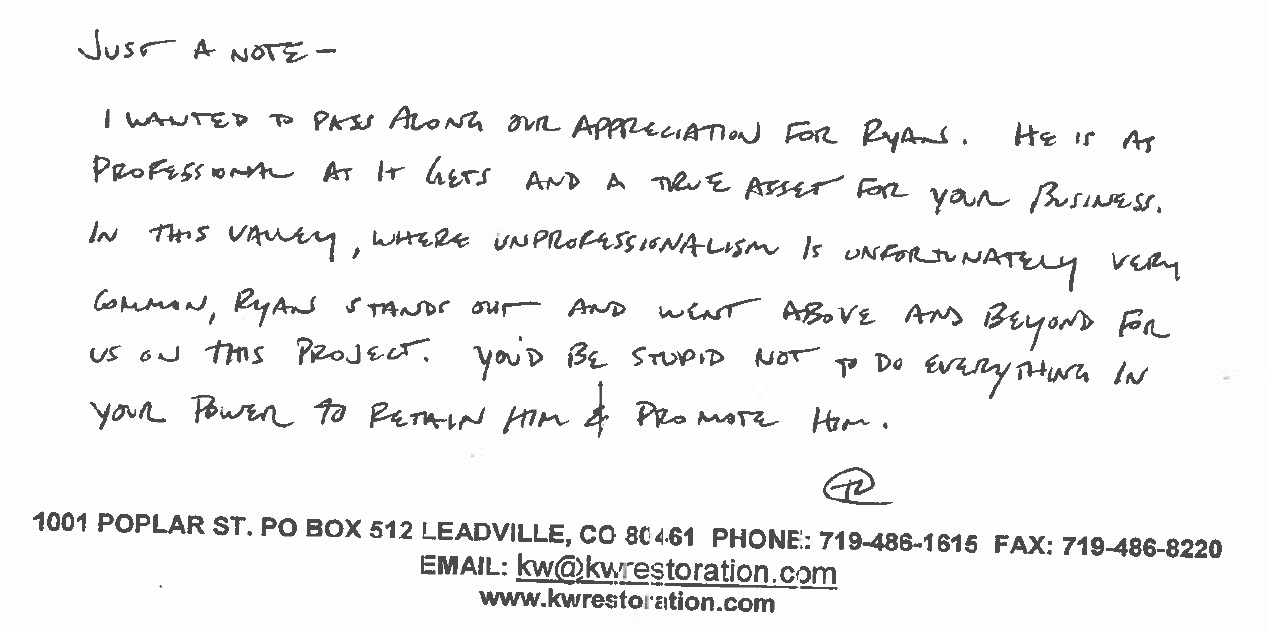 Leadville Water Restoration note
I wanted to pass along our appreciation for Ryan. He is as professional as it gets and a true asset for your business. In this ___, where unprofessionalism is unfortunately very common, Ryan stands out and went above and beyond for us on this project.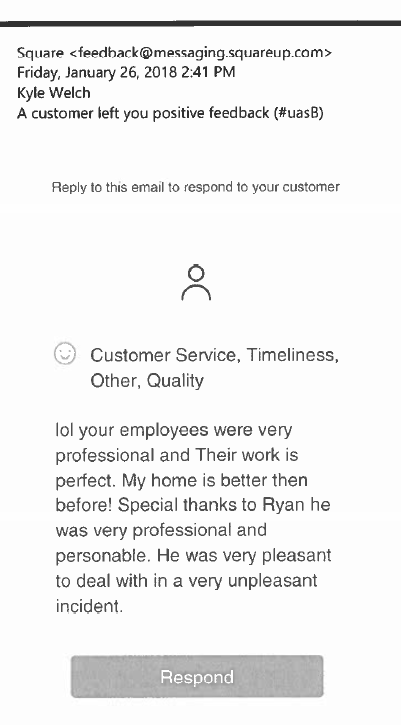 Customer Positive Feedback
Loly your employees were very professional and Their work is perfect. My home is better then before! Special thanks to Ryan he was very professional and personable. He was very pleasant to deal with in a very unpleasant incident.
Estimate Request from
carlos h. on August 28, 2016 6:06:11am
hello, we just purchase a home in leadville co. its a 3 bed 1 bath house, 1,300 sq ft. old house build in 1888. and our closing is this coming oct 14 2016. we want to remodel it first before we move in to the house. so we just want more info about it. how much is it cost, for how long it could take to finish. we can do little by little.
Gwen W. on April 19, 2016 11:06:32am
We had a water leak in the ceiling of our garage. The young men that repaired the leak recommended we call you to repair the water damage because they said there were mushrooms growing in the leak area and they said that if we did not get the area cleaned up black mold could form, causing health problems.
Erin W. on March 5, 2016 12:12:06pm
Hello again...I still have not received the invoice for the work you did on our place at 2994 Highway 91. I am afraid you may have my email address wrong (and we are in Canada so if it was mailed to the home we won't get it.) The email address is erinleighwoods@gmail.com We have been asking for the invoice, and requested it be billed in 2015, since December. Please let me know the status. Thanks.
Peter H. on January 28, 2016 4:40:05pm
I am the owner of a condo in Treehouse Condominiums in Silverthorne. We are planning to start some renovations of the condo kitchen and bathroom areas and are interested in getting a quote from you for doing this renovation. We would also like to get an idea on a time-line of when it is possible to start and approximately how long a renovation will take. Since we are living abroad, we are hoping that most of the communication and decisions can be done via mail correspondence. We will however be present in person when required. What information do you need to be able to provide a quote? On a high level we would like to get the following done in the condo: Kitchen 1. Complete replacement of kitchen interiors such as cabinets, appliances (fridge, owen, stowe, dishwasher), counter-tops, faucets and sink. 2. New tile flooring in kitchen area 3. Removing/rebuilding of kitchen closet/storage Bathroom 1. Removal of bathtub, installation of new shower, new sink, toilet and tiling in bathroom Master bedroom 1. Rebuilding closet area to be a second bathroom with shower and toilet, exchanging of existing sink. Thanks in advance Best Regards Peter Hemmestorp
Roger R. on January 28, 2016 2:13:33pm
refridge line water damage in Nov all dry drywall, paint carpet tile and mold removal >insurance approved me over $9K damage. Need help
Katy W. on January 20, 2016 11:44:52am
Good morning, I recently purchased a 1,000 sq ft historic commercial building in Buena Vista, Colorado and am interested in receiving an estimate for asbestos abatement and renovation at the property. I do already have a Phase 1 ESA that I can share and could meet someone at the property on February 12, 13, 14 all day, or in the morning on the 15th. (I currently live out of state.) Please contact me to discuss further. Thank you! Katy Welter
brad m. on January 17, 2016 1:22:00pm
Under contract on a house in between Leadville and Red Cliff. Home is structurally sound but needs work on the inside. Plumbing, electrical, carpentry, possible roofing,flooring, drywall. Looking for a G.C. to work with me on a renovation loan project.
William K. on October 12, 2015 10:12:17pm
Advised by Adjusters International to contact you to look at damage, see if you agree with origin/source and estimate total costs.
gwen M. on October 11, 2015 4:50:16pm
I have water damage under the tile surrounding the tub. I believe there is mold involved.
Albert R. on October 5, 2015 4:11:48pm
Need estimate for deck