Water Heater Leak Cleanup in Leadville, Salida and Colorado Springs, CO
We service all of the Central Rockies from our offices in Colorado Springs, Leadville and Salida and can help you with water cleanup and water damage repair from water heater leaks.
Water heater and water tank failures can happen at any time, often without warning, and can cause substantial flooding and water damage to your Central Rockies home or business. Two primary reasons for water heater leaks are corrosion of the tank and valve failure. Corrosion of the tank occurs when mineral deposits settle to the bottom of the tank and over time corrode the liner and heater elements. The temperature-pressure (TP) relief valve may have excessive pressure or overheated that will keep it open almost continuously. Since water heaters are frequently placed in the basement or closet that is not commonly used, even a small leak can cause extensive water damage to the floor, sub-floor and walls.
If your home is damaged by water heater leaks, contact us immediately at 719-301-3737 so you can prevent further damage to your property. We provide an estimate and inspection and can determine your source of water damage.
Basement flooding and high humidity in your Central Rockies home or business can create optimal conditions for the growth of mildew and mold. At K.W. Restoration, we have modern water extraction equipment and highly trained water damage professionals to get the job done quickly.
Tips to Follow if Your Water Heater Leaks
Shut off power supply - gas value or electric circuit breaker
Shut off water - valve above water heater or water main
Drain your tank - if your tank is leaking severely
Annual Maintenance on Your Water Heater
Routine maintenance on your water heater is critical to preventing water heater leaks and extending the longevity. Most often water heaters are neglected as they are stored in our garages or utility closets where we tend to forget about them until the water heater fails. Mark your calendar as a reminder to inspect your water heater each year.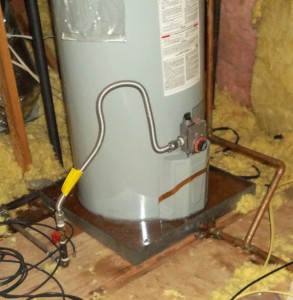 K.W. Restoration recommends several easy and inexpensive ways to perform an annual maintenance on your water heater. Setting the temperature and adding insulation can increase the heater's operating efficiency and only has to be done once. Removing mineral deposits by flushing the tank and checking the anode rod must be performed annually. Replace the anode rod if it has been corroded as this will help prevent rust in your tank. Without the anode rode, the tank will rust quicker and reduce the life of your water heater.
Annual maintenance will help prevent water heater leaks and flooding. Be proactive by adding a water heater overflow pan under your tank. They are inexpensive and are a good investment in case of water heater overflows and leaking pipes. The water heater pan should capture water and prevent moisture problems by draining water away.
Call us at 719-301-3737 immediately for cleanup to your water damaged home or business! We have offices in Colorado Springs, Leadville and Salida and serve all of the Central Rockies and surrounding communities. Contact us today!