Floods are known to be one of the most disastrous events any property can face. Because of their strong torrents and volume, homes that have been devastated by floods have sustained numerous damages that can possibly become life-threatening in the future. Other than the presence of water, this disaster (be it natural or in-home), can harm your home's structure and your health. If the liquid has not been completely eliminated, your walls and floors – especially if they are made of wood – will weaken, which will compromise the structural integrity of your building. Overtime, the moistened areas will become potential breeding grounds for mold and mildew. When that happens, your home will emit a pungent and noxious odor and your household will begin acquiring different respiratory and skin-related illnesses and diseases.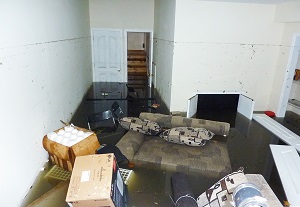 We, at KW Restoration & Construction, want to provide homes located in the surrounding areas of Colorado Springs and Leadville, Colorado, a comfortable and livable indoor environment. That is why our company has been serving residents in this side of the United States since 1988, making us one of the most reliable restoration companies on which you can put your trust. We have several services that can remedy any natural disaster, and yes, that includes floods.
When we receive a project and it calls for water extraction, our team of expertly trained professionals will use top-of-the-line equipment, and perform the following step-by-step procedures:
Water Extraction: Using a powerful pump, we will remove all the liquid that has not only invaded your home, but also extract the liquid that has been trapped in your furniture and the like.
Dehumidifying and Drying: Even though the pumps are powerful, it is uncertain if they are able to remove all the excess liquid still present in your home. To ensure that your rooms are completely dry, we will use dehumidifiers to combat the levels of moisture which will also eliminate the musty odors that can affect you and your property.
Mold Removal: If there is mold present inside your home, we will remove it via our mold remediation process.
Monitoring of Moisture: Once the water has been completely extracted, we will double check the area to make sure that the moisture levels of your home have reduced.